It seems strange in August 2020 that only six months ago we accepted that many of our components should come from Asia. How times have changed! The thought of relying on one supplier in a far-away country now keeps many supply chain managers up at night. The primary consideration for procurement departments is no longer around cost but around reliability and availability. For manufacturers, the only way it seems possible to resolve these issues is by bringing suppliers back onshore – suppliers within the same region or country.
Why did manufacturing go offshore?
The main motivating factor for companies to look to overseas manufacturers was to save money. It is important to be competitive, and going offshore an enterprise could not only reduce costs but also leverage the skilled labor and supplier and sourcing options available there.
With skilled labor becoming scarcer in developed economies, due to baby boomer retirement and a limited number of millennials interested in manufacturing as a career, offshore production provided access to a large pool of skilled labor at a lower cost.
A large number of manufacturing facilities across Asia, e.g. in China and Vietnam, offered a greater range of specialized suppliers that might not exist domestically.
The ability of Asian suppliers to rapidly scale up production allowed businesses to grow markets with little interruption.
Companies could turn the risk of purchasing sophisticated and expensive equipment over to Asian suppliers.
In some cases, the overseas manufacturer was closer to the source of raw materials. This reduced the freight costs of transporting raw materials.
Activities of foreign affiliates of US multinational companies in foreign manufacturing, 2010 and 2014 (amounts US$ millions)
Country
Year
Total Assets
Property, Plant, Equipment
China
2010
95709
25007
2014
171794
37659
India
2010
19288
5996
2014
31295
9540
 Source: US Bureau of Economic Analysis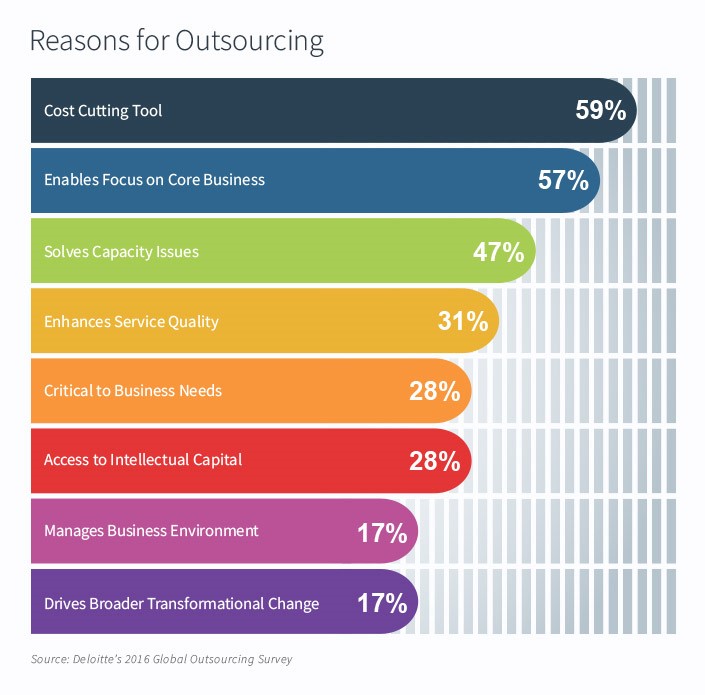 Problems of offshoring
Manufacturers that have gone offshore know that it brings problems of its own. While reducing some labor costs, other costs are incurred. Offshore sourcing usually requires larger inventories and creates higher administrative costs. Often parts made overseas need more quality control, so quality costs may be higher. In a 1988 Harvard Business Review article, Manufacturing Offshore Is Bad Business, costs of offshoring were pointed out:
"add 5% to 15% to the foreign vendors' bid price for shipping, 3% for additional paperwork and communications, 5% to 10% for added inventory, and up to 35% for unanticipated design changes."
Changing political conditions can also create unanticipated problems when tariffs and trade wars change the relative advantage of sourcing offshore.
What's happened in 2020 to manufacturing?
According to the World Trade Organization, international trade is expected to decrease by anywhere from 13% to 32% because of the Coronavirus. While forecasts call for growth to start again as the pandemic comes under control, this is unlikely to happen till 2021 (hopefully!). The industrial and heavy machinery industries are some of the hardest hit by interrupted supplies from China. That means manufacturers must adjust their supply chains to regional or local suppliers who can provide reliable service.
Impact of COVID-19
89% of manufacturing companies have reported business impacts due to COVID-19
44% reported decreases in sales
84% said they will think twice about continuing to use overseas suppliers
74% still have confidence in the manufacturing abilities of the Asia-Pacific region
Source: Fictiv 2020 State of Manufacturing Report
While domestic self-sufficiency may be one way to ensure access to raw materials and components, another option would be to spread suppliers across different regions, in other words going for redundancy instead of reshoring.
Monitoring and managing the new supply chains
Companies should be seriously considering how to monitor their suppliers on a 24 x 7 basis. Just like office workers have had to adopt new technologies like Zoom to cope with a new world of work, so manufacturers need to be looking at technologies to help them monitor and manage their new supply chains. There are several options that businesses can select, depending on urgency and their willingness to employ more advanced technologies:
Engaging suppliers via an online portal. Consumers have become used to ordering groceries via e-commerce platforms, businesses should do the same for their needs. A supplier portal encourages collaboration and engagement between buyers and suppliers, makes supply chains more nimble and more transparent, and ensures greater reliability of fulfillment and delivery.
A request for quote capability tied to a supplier portal enables several suppliers to tender for the supply of items. This allows for redundancy and providers buyers with the agility needed to manage unreliable logistics or sourcing processes.
Inventory optimization integrated with materials requirements planning can identify items necessary for production and generate more accurate forecasting and planning of those items. Adding artificial intelligence (AI) capability can help reduce forecasting errors and solve complex constraint problems.
An accounts payable system with embedded AI could detect anomalies and trends in supplier performance.
Real-time monitoring using IoT. Going a step further in monitoring items with barcode scanning or RFID tags is to do it in real-time using the Internet of Things (IoT). IoT sensor-equipped devices ('things') that capture data, perform varying amounts of local processing, and connect to the internet can be attached to raw materials or components to track and authenticate products and shipments. Integrated with an ERP system this allows greater visibility throughout the enterprise of the movement of goods before, during, and after production.
What should be done?
The Coronavirus pandemic is unlike any previous economic downturn. It has taught us the fragility of outsourcing to offshore locations, and that manufacturing supply chains need to be not only cost-effective but also resilient and robust. 'Just-in-time' has become 'just get it'. Manufacturers will need to increase the diversity of suppliers and consider moving closer to their market, even reshoring. In preparing for a post-COVID world, manufacturers need to start planning for a transformation of industrial production based on digital technologies. Using an ERP system built 'fit for the future', businesses can be reassured that this can be achieved on an incremental basis.